International Walk to School Day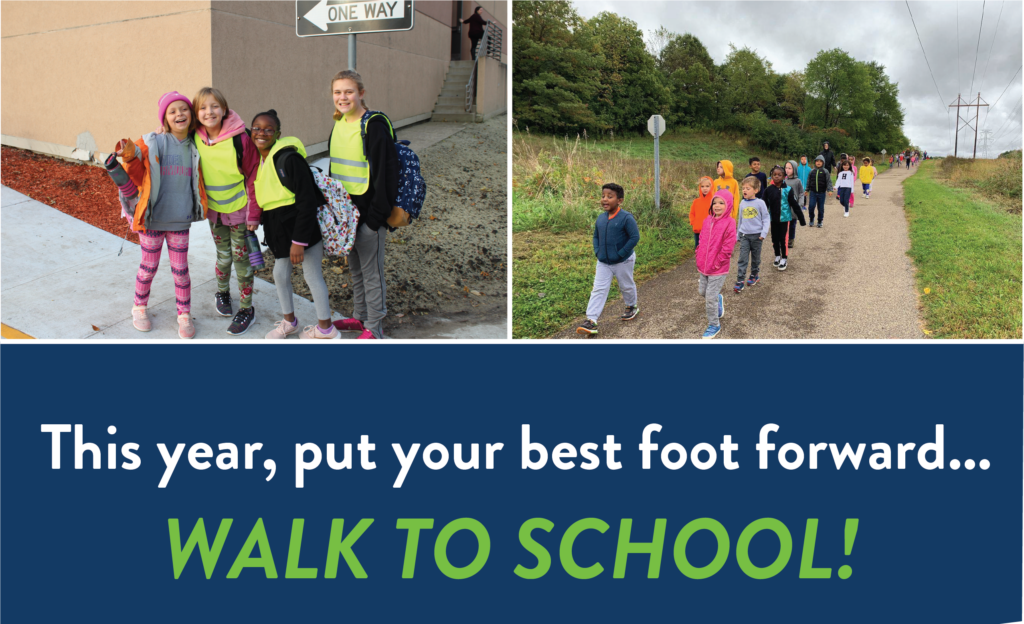 Walk and Roll back to school with Walk to School Day, October 4th, 2023!
Let's go big this year and celebrate the 27th annual Walk to School Day! These events are not only fun for kids, but serve as important opportunities to encourage physical activity and promote safety in neighborhoods and near schools.
On your mark, get set, register! We'll send you banners and posters to advertise your event, stickers and zipper pulls for the kids, and educational spoke cards and bookmarks to share with students to schools that register to share on your event day. Please register by Friday, Sept. 22
Market your Event
Use MnSRTS free tools to help promote your Walk to School Day event. All files are customizable; please update the documents with local school information before exporting or printing.
Walk to School Day Toolkit
Use these free tools to help promote your Walk to School Day event. All PPT files are customizable; please update the documents with local school information before exporting or printing. Powerpoint slides can be exported to individual image files for sharing via email, social media, or the web.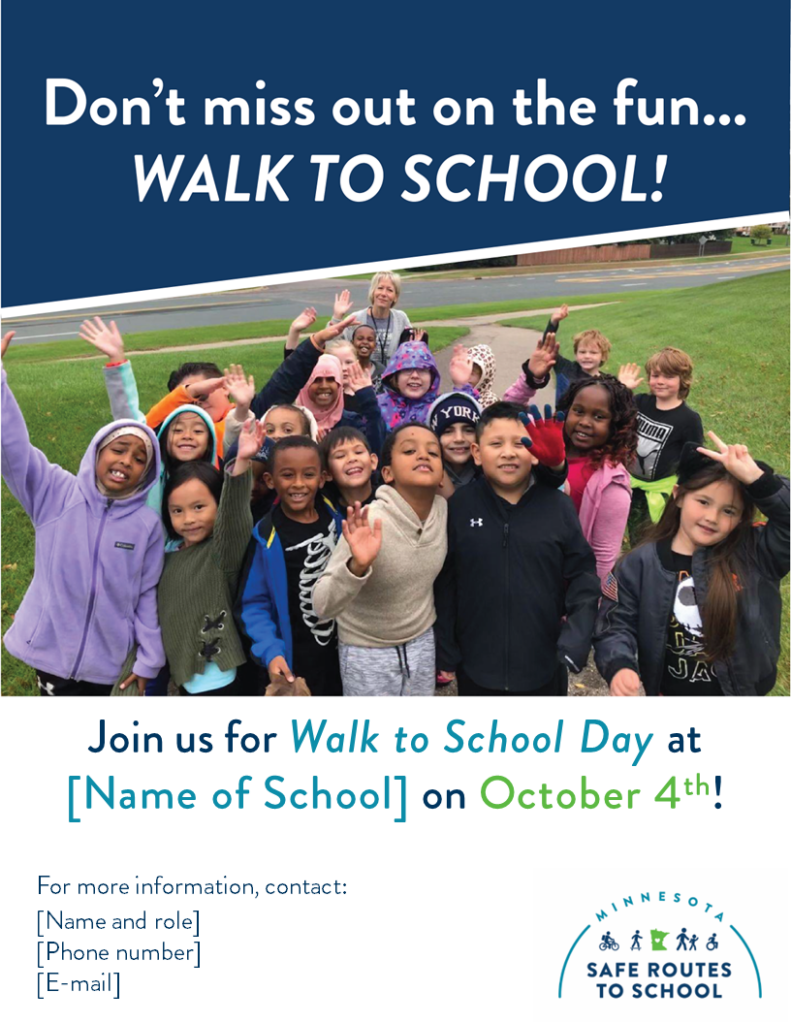 Resources for Everyone
Check out these Ideas for Walk to School Day 2023 from the National Walk and Bike to School Day website for inspiration at the family, neighborhood, or school level.

Then check out some of our resources—these can be used in-school, by classroom or P.E. teachers in a distance-learning context, or by families at home.

Join our Photo Contest and share where you love to walk to. We will highlight winning photos all month long. Help us encourage more walking in Minnesota!

Walking Bingo: Places to Go
Walking Bingo: Things to Do
Walking Bingo: Things to Find
Walking Word Search: Easy and Hard
Walking Safety Crossword
Mileage Tracker

Walk! Bike! Fun! Distance Learning curriculum
Keep it Going Beyond Walk to School Day
The start of a new school year brings a sense of new beginnings and an opportunity for a fresh start, even for those of us who finished going back to school years ago! A new school year is a perfect time to build a healthy habit into your routine, like walking around the neighborhood before class, during lunch or after a long day of learning.
This is a good time to reflect on why you and your community care about walking to school. You can use Walk to School Day to solidify commitments and work toward needed changes to make it safer, easier and more convenient for children to get around by walking, rolling or biking. As a start, try a walk audit of your neighborhood to identify areas for improvement and consider applying for upcoming funding opportunities to make improvements.
Photo Contest
Help us commemorate this Walk to School Day by submitting your photos for the Photo Contest! For inspiration, your submitted photo should showcase your walk to school or Walk to School day events. We want to see you how your community celebrates walking!
Post your photo by October 20 to the MnSRTS Facebook page, with the hashtag #MNwalks. The winning photo will receive statewide bragging rights!
Here's what we would like to see:

Photographs that:
Are suitable for possible use in Minnesota Safe Routes to School materials
Convey a walking or bicycling message
Are original, creative and include students walking/biking
Show students wearing masks and practicing social distancing, in accordance with Minnesota Department of Health guidelines
By submitting a photo, participants give permission to the Minnesota Department of Transportation to use the photo in Minnesota Safe Routes to School promotional materials.
Questions? Email [email protected].
Find more information about the photo contest here.
If you enjoy walking this week, keep it going by supporting walking and biking efforts at your school and advocating for improvements for safe walking in your community!