MnSRTS Vision and Strategic Priorities
The MnSRTS Vision and Strategic Plan below were developed in collaboration with statewide partners during a 2020 strategic planning process.
MnSRTS Vision
Youth in Minnesota can safely, confidently, and conveniently walk, bike, and roll to school and in daily life.
MnSRTS Strategic Plan
The original Minnesota Safe Routes to School Strategic Plan was completed in 2015. In 2020, it was updated with a five-year roadmap for statewide Safe Routes to School efforts and initiatives in Minnesota. MnDOT convened a diverse group of stakeholders from agencies and organizations around the state to develop the plan. Participants included representatives from Minnesota departments of health, transportation, and education; local and regional government; public safety; traffic safety; schools and school districts; nonprofits; and health organizations.
The stakeholder engagement process for Strategic Plan development consisted of robust engagement through a variety of platforms to reach local, regional and statewide stakeholders with varying understanding of Safe Routes to School programing in Minnesota. The participants developed a vision statement for the MnSRTS program, as well as five-year goals, strategies, and action steps. The plan included approaches for public outreach, marketing, education and implementation of Safe Routes to School initiatives, plans and programs.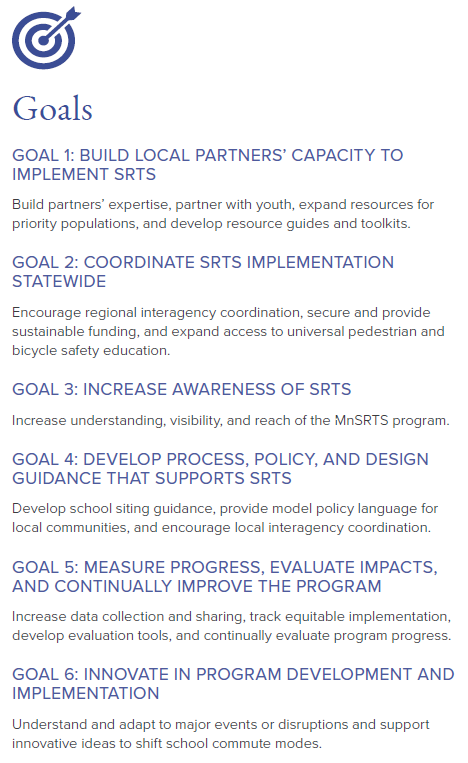 Progress from the 2015 Strategic Plan